Medium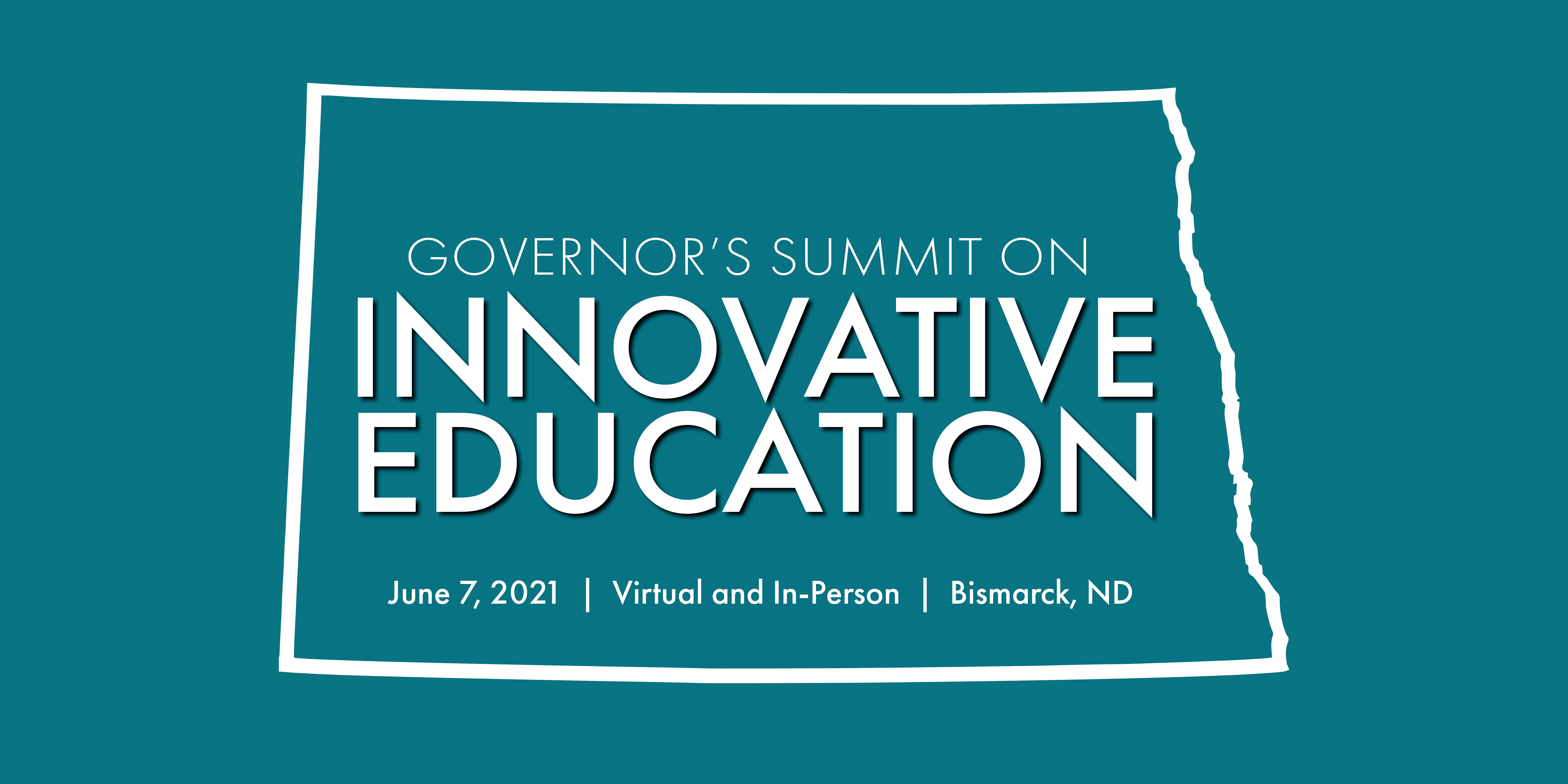 Medium
Nominations open through May 3, 2021
Recognize students, educators, schools and districts leading by example and embracing innovation for the benefit of ND schools and students.
Medium
The 5th annual Governor's Summit on Innovative Education inspires innovation and reimagines learning in schools across North Dakota. This year's summit will include an emphasis on computer science within K-12 classrooms, as well as celebrations from the 2021 legislative session and a necessary focus on accelerating learning as we recover from the impacts of the COVID-19 pandemic. Governor Burgum is committed to inspiring change as our education systems experience significant disruptions. Our future generations are counting on us to build a future for tomorrow. Join us for an opportunity to discover creative solutions, network with experts from the field and light a spark for future transformation.
We encourage all stakeholders to join us for this statewide, in-person and virtual summit and join in the collective cause to adapt our education system to the rapidly evolving world.
Whether an education professional helping shape young minds, a student seeking knowledge, a parent wanting the best for your children or a business leader invested in the future workforce, we all have an interest in the future of education in North Dakota and this is an opportunity for us to learn and drive positive change together.
Medium
Innovative Education Week & IgniteND
The 2021 Governor's Summit on Innovative Education is part of a cooperative effort focused on innovative education and inspiring a love of life-long learning. Innovative Education Week, a week-long series of events, is an opportunity for educators and industry, parents and policymakers, to engage on 21st century education topics – including computer science and cybersecurity as foundational for success in a global, digital economy.

IgniteND, taking place Tuesday, June 8 - Friday, June 11, is a high-quality professional development opportunity featuring four days of hands-on workshops for educators, at Bismarck State College. Registration is $99 for the four days, and the fee covers all meals, lodging in campus dorms (if requested) and evening opportunities.
Learn more and register at IgniteND.com.

See more information on Innovative Education Week by clicking here.
Medium
#InnovativeND Awards
The #InnovativeND Awards recognize students, educators, schools and districts who lead by example and have embraced innovation for the benefit of our schools and students. Award recipients will be announced and recognized during the 2021 Summit on Innovative Education.
Medium
Professional Learning Hours
Hours of participation during the Summit on Innovative Education can be counted towards graduate cafeteria credit. Register and complete the necessary information from:
Medium
Partners
North Dakota Governor's Office
North Dakota Department of Public Instruction
North Dakota Information Technology - EduTech
Bismarck State College