Medium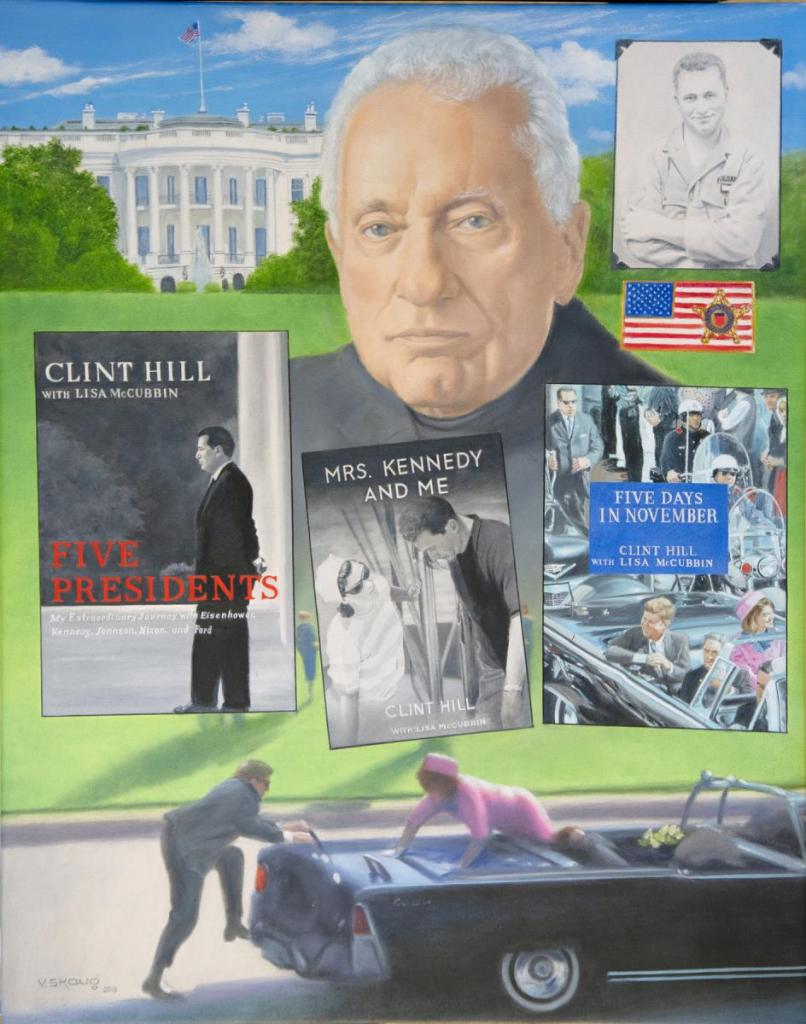 U.S. Secret Service Agent and Author
1932
Clint Hill will forever be remembered as the courageous Secret Service Agent who leapt onto the back of the presidential limousine in the midst of the assassination of President John F. Kennedy in Dallas, Texas, on November 22, 1963. Hill's primary responsibility that day was the protection of First Lady Jacqueline Kennedy. At the sound of the first shot, Hill jumped from his position on the follow-up car, racing to shield the president and first lady with his body from the oncoming bullets. Three shots were fired within six seconds, but Agent Hill's swift and selfless actions saved Mrs. Kennedy's life.
Clinton J. Hill was born on January 4, 1932, in Larimore, North Dakota. His biological mother was unable to care for him, so she took him to Fargo, had him baptized, and turned him over to the North Dakota Children's Home. He was adopted as an infant by Chris and Jennie Hill, who raised him along with their previously adopted daughter, Janice, in Washburn. Clint attended Washburn Public Schools and participated in every school activity available, including football, baseball, basketball, and band. Upon graduation from Washburn High School in 1950, he attended Concordia College in Moorhead, Minnesota, but returned every summer, working at various jobs in the Washburn area. He worked in construction, building the Garrison Dam; was a surveyor's helper for the McLean County Engineers Office; worked on farms for his aunts and uncles; and did various jobs for the Holtan Mercantile Company in Washburn - the first of which paid him 18½ cents per hour.
After college, Hill intended to teach history and coach athletics, but he was required to fulfill his military obligation. He served three years in the U.S. Army, where he was trained to be a Counter Intelligence Agent. In 1958, at the age of 26, Hill was accepted into the U.S. Secret Service in the Denver field office. One year later, he was assigned to the elite White House Detail responsible for protecting President Dwight D. Eisenhower. When President John F. Kennedy was elected, Hill was one of two agents assigned to protect First Lady Jacqueline Kennedy. After the assassination of President Kennedy, Hill rose through the ranks of the Secret Service to become the Special Agent in Charge of the Presidential Protective Division during Lyndon B. Johnson's administration, and in 1971, during the Richard M. Nixon administration, he was promoted to Assistant Director, responsible for all Secret Service protective forces. In 1975, while Gerald R. Ford was president, Hill retired from the job he loved, at the age of 43, still haunted by the possibility he could have somehow saved President Kennedy that day in Dallas.  
In 2012, Hill collaborated with journalist Lisa McCubbin to write Mrs. Kennedy and Me, a memoir of the four years he spent with Jacqueline Kennedy. Two more books followed: Five Days in November and Five Presidents: My Extraordinary Journey with Eisenhower, Kennedy, Johnson, Nixon and Ford.  All were New York Times best sellers.
Clint Hill has traveled the world representing the United States, meeting kings, queens, presidents and prime ministers in his protective assignments, and whenever anyone asks, "Where are you from?" he proudly answers, "NORTH DAKOTA." His many awards and commendations include an Honorary Doctorate Degree from Niagara University, the American Valor Award from the American Veterans Conference, and the U.S. Treasury Department's highest award for Valor. Clint Hill has two sons, Chris and Corey, and five grandchildren.
Presented: November 19, 2018
Portrait Painted By: Vern Skaug