Medium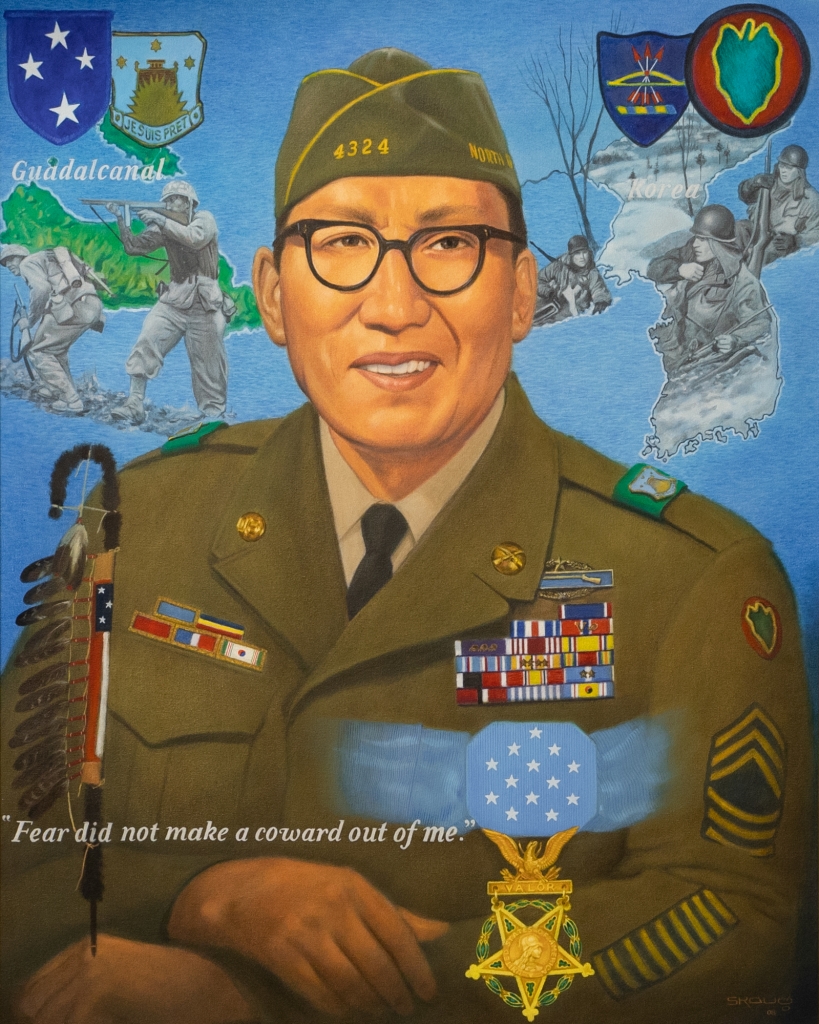 Military Service
1917 - 1982
Master Sergeant Woodrow "Woody" Wilson Keeble is one of the most highly decorated Soldiers in North Dakota history. A veteran of World War II and the Korean War, Keeble was presented with the Medal of Honor posthumously on March 3, 2008 at the White House. He is the first full-blooded Sioux Indian to receive the nation's highest military honor. He was inducted into the Pentagon Hall of Heroes on March 4, 2008.
Keeble was born on the Sisseton-Wahpeton Sioux Reservation in Waubay, S.D., and made his hometown in Wahpeton, N.D. He joined the North Dakota National Guard in 1942, and was a member of Company I, 3rd Battalion, 164th Infantry Regiment (Rifle).
His unit became the first U.S. Army unit to engage in offensive operations in WWII when they reinforced the 1st Marine Division at Guadalcanal. The 164th Infantry Regiment significantly contributed to decisive victory in the battle. Keeble received his first Bronze Star Medal, his first of four Purple Hearts and the Combat Infantryman Badge for his actions at Guadalcanal.
Keeble reenlisted with the 164th Infantry Regiment at the beginning of the Korean War and later volunteered for a combat assignment with an active duty Army unit. He served with Company G, 19th Infantry of the 24th Infantry Division in Korea, where his actions would eventually earn him the nation's highest military honor.
On October 20, 1951, when all of the officers of his company were killed or wounded, Keeble took charge of the support platoon attempting to complete the company's mission of taking control of a steep, rocky and heavily fortified hill.
Although treated the day before for over eighty shrapnel wounds, Keeble returned to duty on the day his actions earned him the Medal of Honor. Armed with grenades and his rifle, Keeble successfully conducted multiple, single-handed assaults against three well-fortified enemy positions. These heroic actions saved the lives of his fellow soldiers and inspired his company to achieve its important objective.
Keeble's famous comments exemplify his military service. "There were terrible moments that encompassed a lifetime, an endlessness when terror was so strong in me that I could feel idiocy replace reason. Yet I have never left my position, nor have I shirked hazardous duty. Fear did not make a coward out of me."
At the presentation of the Medal of Honor, President George W. Bush remarked, "Woody Keeble's act of heroism saved many American lives, and earned him a permanent place in his fellow soldiers' hearts."
Presented: July 23, 2008
Portrait Painted By: Vern Skaug