Medium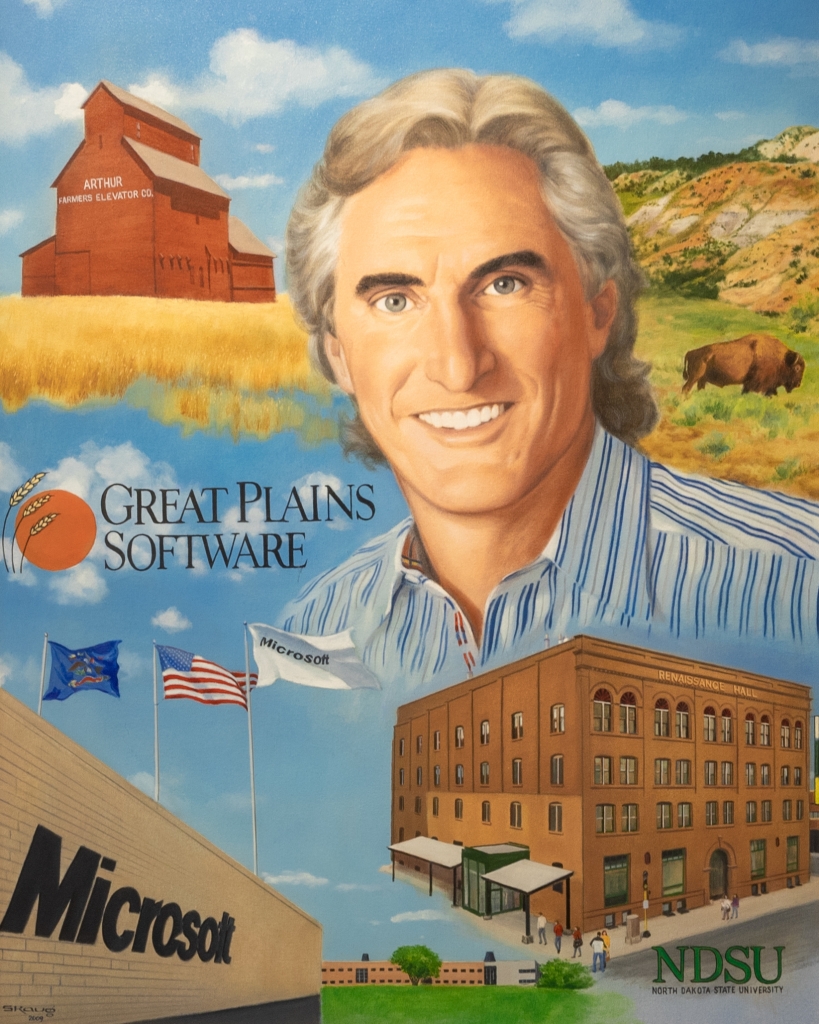 Entrepreneur and Philanthropist
1956
Recognized globally for his visionary business leadership, entrepreneur and philanthropist Doug Burgum credits his success to the values and ethics instilled in his early years by his family and community. Others cite his deep commitment to improving both the personal and business lives of people worldwide as the distinguishing attribute of his leadership.
A native of Arthur, North Dakota, Doug earned a Bachelor of University Studies degree from North Dakota State University (NDSU), then went on to achieve an MBA from the Stanford Graduate School of Business. After building national experience as a consultant at McKinsey & Company, he returned to North Dakota in 1983 and joined Great Plains Software-then a very small startup company in the fledgling computer software industry. Driven by a firm belief in our region's people and a powerful dream, he led the company's growth as chairman and CEO to a very successful initial public offering in 1997. He then steered Great Plains through its strategic acquisition by Microsoft Corporation in 2001 for $1.1 billion-at the time, the largest acquisition Microsoft had ever made. He remained at Microsoft as senior vice president through 2007, helping the company capture a leading position in the business applications software industry.
As a testimony to his people-centric philosophy, Great Plains was named to FORTUNE magazine's list of "100 Best Companies to Work for in America" four times, a distinction also held by Microsoft Corporation during Doug's tenure there.
In 2006, Doug reaffirmed his passion for the region by founding Kilbourne Group, a company committed to the redevelopment of downtown Fargo through the restoration of historic buildings and the creation of new buildings that honor the past and inspire the future. His renovation of the landmark Northern School Supply building in 2000 greatly influenced the vision and mission for Kilbourne Group. The Northern School Supply project led to NDSU creating its downtown Fargo campus, which contributed to the Renaissance revival in downtown Fargo.
In 2008, Doug co-founded Arthur Ventures, a regional venture capital fund that seeks to identify and invest in businesses with potential for strong growth; he serves as the company's chairman. He has also served as a member of the advisory council for the Stanford Graduate School of Business, the board of directors of SuccessFactors, and numerous other companies.
The success of businesses and people guided by Doug's leadership has been a catalyst for the establishment and growth of numerous spin-off and startup companies in Fargo and across North Dakota, especially in the technology and software sectors.
With deep gratitude for the communities and people that inspired his success, Doug contributes to numerous philanthropic efforts-and has established the Doug Burgum Family Fund, which focuses its charitable giving on youth and education, and honors the multi-generational commitment to these causes started and continued by his parents, grandparents and great grandparents. Doug maintains his commitment and connection to his small town and agricultural roots through family farm partnerships, serving as a board member for Arthur Companies, Inc. and ranching in the Badlands of western North Dakota.
Presented: November 20, 2009
Portrait Painted By: Vern Skaug