Medium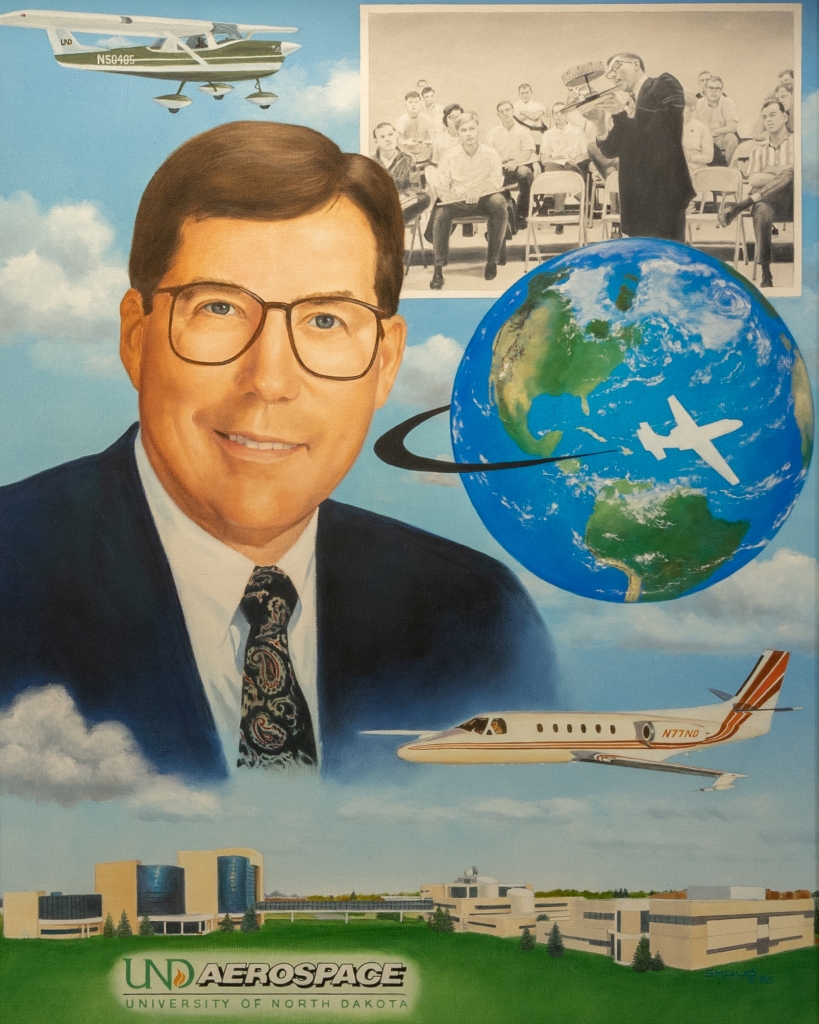 Aviation Pioneer and Leader
1941 - 1998
John D. Odegard is the founder and former dean of the John D. Odegard School of Aerospace Sciences at the University of North Dakota (UND) in Grand Forks. In 1968, John pioneered UND's aviation program with two donated aircraft and a small office in the Business College, and since then, it has grown to become one of UND's largest degree-granting colleges, one of the nation's most widely-respected aerospace education programs, and a leader in atmospheric research.
The program that began with only 12 students now enrolls nearly 2,000 students who come from every state in the nation and several countries. The program and its nearly 500 faculty and staff members are housed in a state-of-the-art aerospace education complex. The school's flight training facility is one of the largest of its kind in North America. Students fly more than 116,000 flight training hours annually in a fleet of 120 aircraft.
Throughout his 32-year career as an aerospace educator, John's reputation for leadership earned him industry acclaim and numerous recognitions. In 1982, he directed the development of the Federal Aviation Administration's (FAA) four-year degree designed to prepare technical managers for an increasingly complex National Airspace System. He helped initiate a joint effort between UND Aerospace and the FAA to broadcast aviation classes via satellite to college campuses across the country, and in 1986, lead the development of the SPECTRUM airline pilot training program, an industry standard for commercial pilot training around the globe.
Under John's leadership, UND Aerospace moved to the forefront of research aimed at modernizing the nation's aging weather radar surveillance system. In 1987, UND Aerospace established the nation's first multi-disciplinary space studies program to provide a comprehensive understanding of the impact of humankind's move into space.
John was honored with the FAA's Excellence in Aviation Award and Distinguished Service Award for his many achievements in aerospace education and aviation safety. He was honored by the National Air Transportation Association with its Excellence in Pilot Training Award and received the prestigious Frank G. Brewer Trophy from the National Aeronautics Association for his distinguished and inspiring leadership in creating new educational opportunities. He was named North Dakota Business Innovator of the Year and was inducted into the North Dakota Entrepreneur Hall of Fame, the North Dakota Aviation Hall of Fame and the Norsk Hostfest Scandinavian-American Hall of Fame.
He served as a consultant and guest speaker for many national governments, multi-national corporations, airlines and educational institutions. In North Dakota, he was a prominent figure on numerous boards and committees, and served for 20 years on the North Dakota Aeronautics Commission. He is widely published on subjects of aviation education and flight training, and co-authored a leading textbook, Airport Planning and Management.
John passed away in 1998 at the age of 57.
Presented: October 15, 2015
Portrait Painted By: Vern Skaug