Medium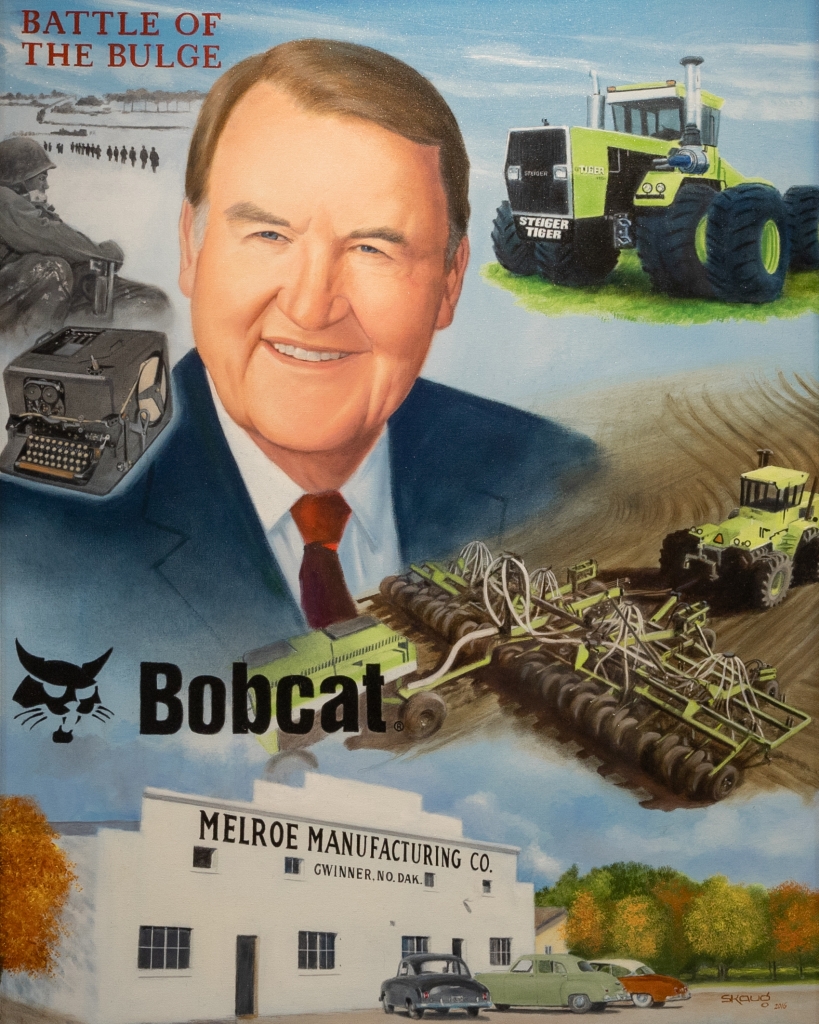 Business Leader and Entrepreneur
1924 - 2008
Eugene Dahl is a leader, entrepreneur and philanthropist whose name is synonomous with innovation in manufacturing and agriculture not only in North Dakota, but nationally and globally. He led the successful growth of several equipment manufacturing businesses in North Dakota, including Bobcat and Steiger, and was instrumental in bringing thousands of manufacturing jobs and economic opportunities to the state.
A native of Gwinner, Eugene graduated from Gwinner High School and attended North Dakota State University and Michigan State University before serving in World War II with the 75th Infantry at the Battle of the Bulge. He served as a cryptographer, working with new technology that was used to code and decode important and secure messages. After the war, he finished his education at the University of North Dakota with a degree in math and chemistry.
In 1947, he married Evelyn Melroe. They taught school for one year in Cavalier before returning to Gwinner where Eugene became a partner in the Melroe Company, which was founded by Evelyn's father, E. G. Melroe. Eugene and his four brothers-in-law built the Melroe Manufacturing Company, now known as Bobcat, before selling it in 1970 to Clark Equipment. Bobcat is North Dakota's largest manufacturer, producing skid steer loaders with sales around the globe.
In 1971, Eugene assumed the role of CEO of Steiger Tractor in Fargo. Under his leadership, the company grew from $2 million to $105 million in sales in six years, and the company became a world leader in the manufacture of four-wheel drive tractors. While at Steiger, Eugene formed one of the first employee stock ownership plans in the nation. Steiger was sold to JI Case in 1986.
Throughout his career, Eugene mentored several employees and entrepreneurs. He helped his sons, Howard and Brian, establish Concord, Inc., which became the leading manufacturer of air seeders in the U.S. He served as board chairman from 1977 until the company's sale to Case Corporation in 1996. He was also pivotal in the creation of Amity Technology, the leading manufacturer of sugar beet harvesters and defoliators in North America and Russia.
Eugene co-founded First Dakota Capital, North Dakota's first venture capital firm, and served as the first chairman of the Center for Innovation at UND. He served on numerous boards and received many honors, including an honorary doctorate from UND, induction into the North Dakota Entrepreneurial Hall of Fame and the 2008 NDSU Harvest Bowl Agribusiness Award.
Eugene passed away in 2008 at the age of 83.
Presented: October 28, 2016
Portrait Painted By: Vern Skaug