<< All News
Wednesday, December 19, 2018 - 04:30pm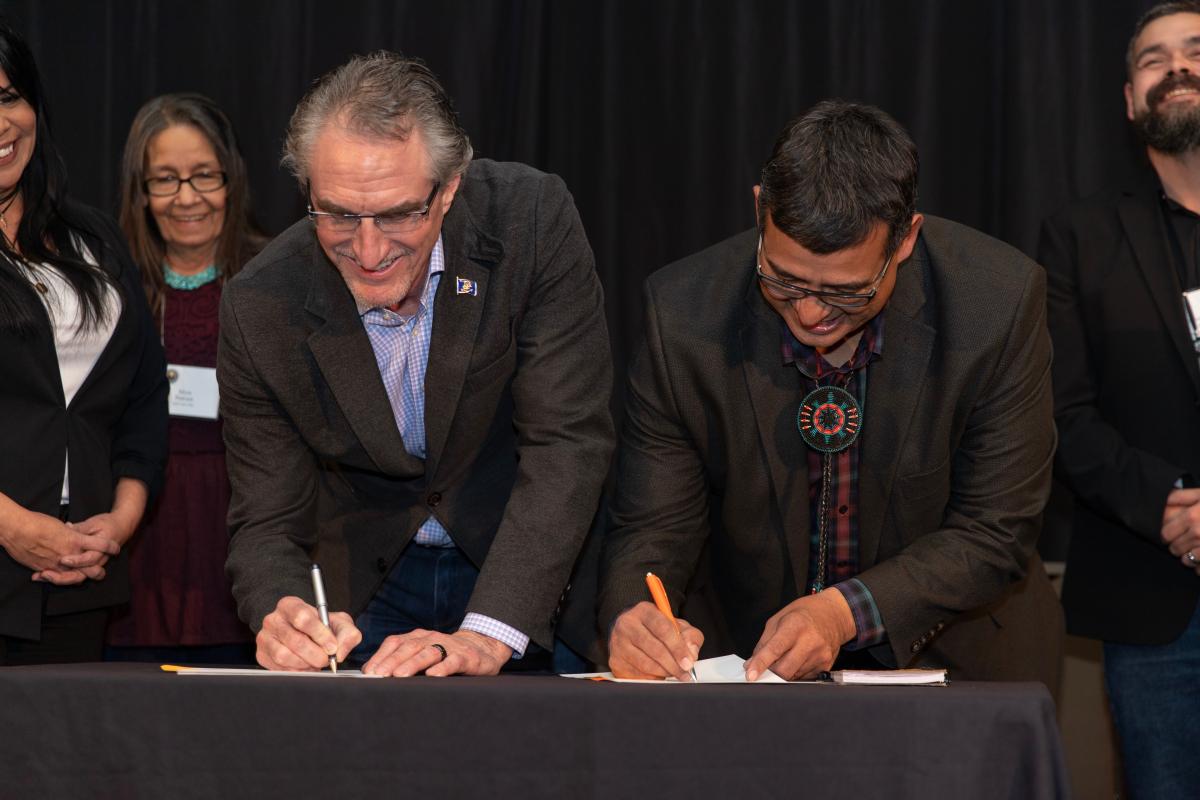 BISMARCK, N.D. – Gov. Doug Burgum today highlighted improved relations between state government and North Dakota's Native American tribes while also noting there is still much room for improvement and many opportunities for collaboration.
More than 300 people attended the first-ever Strengthening Government to Government Partnerships and Relationships conference last January, and the second conference that began today is expected to draw similar attendance, including tribal leaders, elders and other members, state agency leaders and staff, legislators and federal partners.
In welcoming remarks, Burgum challenged everyone in attendance to continue striving for better relations between tribal nations and their state, federal and local partners.
"We can look beyond the differences. We can look beyond that tragic history and we can look toward a really bright future, and this conference can be that jumping off point," Burgum said, stressing the importance of meaningful consultation between sovereign nations. "We can be the best in the nation here in North Dakota in how we do government to government relations. We should settle for nothing less, because we need to find real solutions to real problems, and I know that all of us, if we not only bring our minds but our hearts to the problems, we can achieve that."
The two-day conference is being hosted by the North Dakota Indian Affairs Commission at the Ramkota Hotel in Bismarck. Agenda topics include Native American sovereignty and governance; health care and energy in Indian country; addressing drug crime and activity on, near and off the reservation; school board governance; addiction and recovery; and the upcoming 2019 legislative session.
Burgum and Scott Davis, executive director of the Indian Affairs Commission, both spoke about how all North Dakotans care about similar things – education, health care, their elders, opportunity and a bright future for their children – and can work together as neighbors and partners to improve conditions.
"Once you start to understand people and where they come from, and what they're all about, you seem to find out that there's a lot of similarities, that they want kind of the same thing that you do, but probably just in a different way, so that's what this conference is about," Davis said.
In the latest example of collaboration, Burgum joined Chairman Mark Fox of the Mandan, Hidatsa and Arikara (MHA) Nation in signing a memorandum of understanding today at the conference. Under the agreement, the state will recognize motor vehicle license plates and registrations issued by the MHA Nation to its enrolled members residing within its jurisdictional boundaries. The MHA Nation will transmit the ownership and registration information for each vehicle it registers to the North Dakota Department of Transportation.
Burgum expressed his gratitude for the attendance and ongoing collaboration by the chairpersons of all four tribal nations headquartered in North Dakota: Fox, Chairman Jamie Azure of the Turtle Mountain Band of Chippewa, Chairman Mike Faith of the Standing Rock Sioux Tribe and Chairwoman Myra Pearson of the Spirit Lake Nation. Burgum and Lt. Gov. Brent Sanford have visited and hosted all of those tribal nations multiple times since taking office in 2016 and identifying tribal partnerships as one of their five strategic initiatives. Burgum and Sanford also have met with the presidents of all five tribal colleges in North Dakota, all of whom were in attendance at the conference today.
The governor also thanked the state Legislature for creating the interim Tribal Taxation Issues Committee, which included legislative leadership and the governor as chair. The committee met with all four tribal nations, ultimately leading to the planned introduction of two pieces of legislation that would give the governor authority to enter into separate agreements with individual tribes to administer sales and use taxes or wholesale taxes on alcohol and tobacco.
"They create a framework for future collaboration, and that's the key – working to put the structures in place so as needs arrive in the future, we'll have mechanisms where the legislative and executive branches can work together with the tribes to make sure all the citizens of North Dakota can best be served," Burgum said. "And we also have an interest in avoiding dual taxation, because we know that drives away capital and investment."
Burgum highlighted other areas of collaboration related to health care, job training and law enforcement, and noted that his executive budget recommendation proposes $1 million for tribal colleges as part of the state's workforce development initiative and $2.9 million to expand access to supports for caregivers of children in the care of tribal social services.
The conference continues Thursday with Sanford among those delivering opening remarks.
For more information about the conference, visit the Indian Affairs Commission's website.
<< All News